EGON – Introspettiva da Klimt a Schiele
EGON – Introspettiva da Klimt a Schiele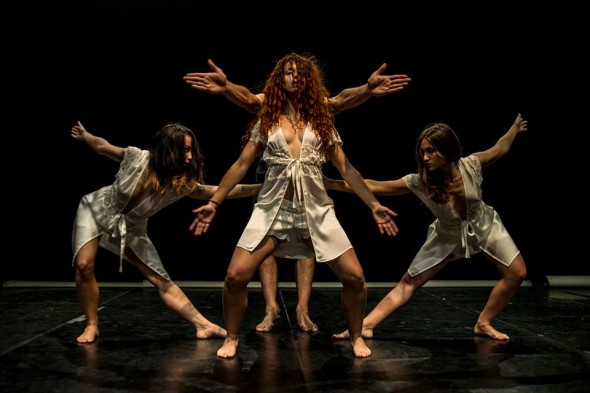 choreography: Leonardo Diana
dancers: Barbara Carulli, Valentina Sechi, Naomi Segazzi, Leonardo Diana
virtual set designer: PROFORMA Videodesign – Nicola Buttari, Martino Chiti
music: Andrea Serrapiglio, Luca Serrapiglio
drammaturgy: Filippo Figone, Leonardo Diana
light designer: Gabriele Termine
Scenography: Eva Sgrò
Production Versiliadanza 2017
supported by MiBACT – Ministero Beni e Attività Culturali e del Turismo,
Regione Toscana, Comune di Firenze
in collaboration with Teatro Cantiere Florida di Firenze,
Armunia Festival Inequilibrio e del Deutsches Institut di Firenze
"Egon – Introspettiva da Klimt e Schiele" è un progetto multidisciplinare incentrato sulla poetica dei pittori Gustav Klimt ed Egon Schiele nella Vienna dei primi del '900.
Il lavoro vedrà impegnati quattro danzatori, due musicisti, due video artisti, un tecnico luci, una scenografa e un programmatore che stanno lavorando all'elaborazione di un linguaggio unico ed equilibrato tra le diverse discipline. Riflettendo sul periodo della "grande Vienna" a cavallo del primo '900, definita dal neuroscienziato e premio nobel per la medicina Erik Kandel come "l'età dell'inconscio", dove la relazione tra le arti e le scienze era incommensurabile e dove l'humus culturale era così ricco da creare relazioni, anche nascoste e inaspettate, tra personaggi come Gustav Klimt e Egon Schiele, Sigmund Freud, Arthur Shnitzler, Adolf Loos, Ludwig Wittgenstein. Il progetto in questione vuole svilupparsi nella relazione tra corpo, gesto e nuove tecnologie.
Nasce così l'idea di mettere insieme la danza, con la musica e la video arte, per la preparazione di una performance multidisciplinare che ricrei l'aura che circonda le vite di Klimt e Schiele e i paradigmi estetici e filosofici, al tempo rivoluzionari, che sono riusciti a condensare, rappresentare e imporre.
Leonardo Diana nella propria riflessione artistica sul doppio, lo specchio, la rappresentazione di sé e il narcisismo, intende con questo lavoro continuare ad approfondire la ricerca su questi temi universali, confrontandosi con i due pittori che hanno ostentato un radicale cambio di paradigma nella sfera dell'immaginario, illustrando un periodo carico di turbamenti storici ed esistenziali e rendendo manifesti impulsi interiori ed inconsci.
EGON is a multidisciplinary project focusing on the poetics of Viennese painters Gustav Klimt and Egon Schiele in collaboration with the Goethe Institute in Florence and with the Cantiere Florida Theater (one of the most important theaters for contemporary dance in Italy).
The work, choreographed by Leonardo Diana, will involve 3 dancers, musicians and video artists who are working on creating a show that can be adapted to different spaces: theaters, exhibition spaces such as museums, post-industrial, in order to create site specific performances.
The project is inspired by the great Viennese period of the early 1900s, where the relationship between art and science was immeasurable, and it investigates the relationship between the body and new technologies (in particular, music, video and software development).
The multidisciplinary performance, that involves dance, music and video art, will recreate the mystical aura surrounding the lives of Klimt and Schiele. The psychological introspection is represented through the movement of a twisted body, shaken by inner discomfort, the son of a society in which it is forced to live today as at the time.
Leonardo Diana, in his artistic reflection on the double, the mirror, self-depiction and narcissism, will confront himself with the two painters. Two artists who flaunt the paradigm shift in the sphere of the imaginary, depicting a period of historical and existential turmoil, and making inner and unconscious impulses visible.